The significance of the Shopify eCommerce platform cannot be downplayed. A top platform that supports businesses of all sizes in selling their products online. Having eCommerce Websites enables your business to have a great customer base. Shopify is the first name most enterprises think of when it comes to the best eCommerce Platform among several e-commerce platforms available. An ideal choice for businesses of all sizes, Shopify offers a wide range of features and benefits.
However, Shopify has consistently proven to be a leading e-commerce platform, offering a comprehensive suite of features that empower businesses of all sizes. In this blog post, we will explore the key reasons why Shopify stands out as the best e-commerce platform and how it can benefit your business.
Top Reasons Why the Shopify eCommerce Platform is Best:
Interface:
Shopify is incredibly easy to navigate, even for individuals without any prior experience with eCommerce platforms. The interface is intuitive and user-friendly, with numerous tutorials and resources accessible to aid you in getting started.
Scalability:
The scalability of Shopify allows it to grow alongside your business. To accommodate more traffic and more products, you can easily upgrade your plan as your sales increase.
Features:
Shopify provides various features that can assist you in operating your eCommerce business more efficiently. The features provided encompass inventory management, shipping and fulfillment, marketing tools, and analytics.
Integration:
Through its integration options, Shopify offers compatibility with a wide selection of third-party apps and services, empowering you to customize your store and augment its functionality.
Integration with Google Ads:
You can connect your Shopify store with Google Ads through Shopify's End-to-end integrations to track the performance of your ads and enhance your return on ad spend (ROAS). Seeing how your ads are performing on Google's search network, YouTube, and other Google properties is within your reach.
Live Chat Integration:
Connect your Shopify store with a live chat service by utilizing the Live chat integration feature of Shopify. Chatting with your customers is possible in real-time. This can support you in answering customer inquiries, resolving issues, and closing sales.
POS Integration:
By utilizing Shopify's POS integration feature, you are able to connect your Shopify store with a point-of-sale (POS) system and engage in selling your products in person. It can assist you in enhancing customer service, boosting sales, and monitoring inventory.
Professional Templates:
You can personalize the appearance of your online store by selecting one professional template. Some of the world's most renowned designers have created these theme templates that cover various industries.
Payment Provider: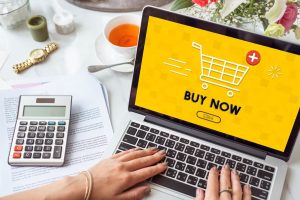 Shopify's default payment provider is PayPal. Besides PayPal, it also permits effortless integration of third-party payment providers with famous apps.
Customer Support:
Shopify provides exceptional customer support. In case you face any difficulties or queries, there is the possibility to obtain support from a live chat agent or access the Shopify help center.
Features that Make Shopify the Perfect E-Commerce Platform
Themes:
Shopify presents an extensive selection of themes that you can use in order to customize the appearance and atmosphere of your store.
Apps:
Find an array of apps in Shopify's app store that enable you to expand your capabilities and add new features to your online store.
Payment Gateways:
By integrating with various payment gateways, Shopify enables you to accept payments from customers in diverse ways.
Shipping:
Shopify seamlessly integrates with several shipping carriers, enabling you to conveniently ship your products to customers.
Marketing:
Attracting new customers and promoting your store is made easier with the assortment of marketing tools available from Shopify.
In a Nutshell:
Even people with no prior experience with eCommerce platforms can easily use Shopify. With its intuitive design, the interface is user-friendly, offering numerous tutorials and resources for those just starting out. Your business can grow with Shopify, which is a scalable platform. In case your sales increase, upgrading your plan to accommodate more traffic and products is simple.
Considering starting an eCommerce business? Choose Shopify, it's a great platform. The usage is effortless, scalable, and packed with features. If you're interested in starting an eCommerce business with Shopify, contact Betasoft Digital Services today. We will help you get started and grow your business to its full potential.
Also Read: 10 Essential Web Design Trends for Australian Businesses in 2023